by John Binder
Breitbart
Attorney General Jeff Sessions says striking a deal on the issue of the President Obama-created Deferred Action for Childhood Arrivals (DACA) program could be the "last real opportunity" for Americans to see a legal immigration system that works in their interests, rather than against them.
In an interview with Fox News' Maria Bartiromo, Sessions said the White House-backed immigration plan that business-first Republicans and Democrats blocked was a missed chance for Americans to see relief in an immigration system that would have eventually ended the mass importation of more than one million mostly low-skilled foreign workers every year. Sessions said:
Look, this is an opportunity for the American people, maybe our last real opportunity, to create an immigration system that's lawful, that ends the lawlessness, the illegality, and serves the national interest. … President Trump's plan is strong, the Grassley bill included that pretty effectively, it's the kind of legislation I think could work, that I supported. And it didn't pass." [Emphasis added]

…

But, I got to say, we have got to talk about this as a nation. We need … President Trump's plan calls for ending the illegality, having real enforcement with a border wall, it calls for a merit-based system, instead of the chain migration, it calls for ending the Visa Lottery, which is a ridiculous policy and always has been. … Why we can't get that done baffles me. And I think it's … the American people are there and we cannot stop, we have got to get this done." [Emphasis added]
Sen. Chuck Grassley's (R-IA) immigration plan—blocked by Democrats and a number of Republicans—mirrored the White House's immigration framework in that it down-the-road ended the process of "chain migration," ended the Diversity Visa Lottery program, and funded a border wall along the U.S.-Mexico border.
Chain migration, as Breitbart News has extensively reported, has imported more than 9 million legal immigrants to the U.S. for no other reason than to reunite with their foreign relatives. Chain migration allows newly naturalized citizens to bring an unlimited number of foreign relatives to the country.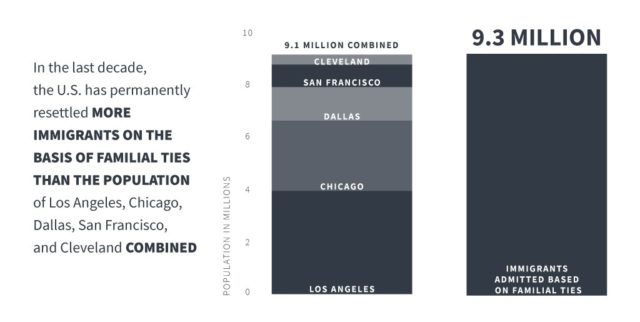 Like the White House's immigration framework, the Grassley plan would not have immediately ended chain migration, though, allowing the roughly four million chain migrants in the backlog to continue entering the U.S.
Experts have previously told Breitbart News that this provision would have essentially kept chain migration in place for potentially up to 20 years, ensuring no immediate relief for America's working and middle class while giving immediate relief to at least 1.8 million illegal aliens who would have been given amnesty under the plan.
Sessions said the Trump administration was more than generous in their immigration proposal, revealing the extreme, cheap labor and open borders views of the Republican establishment and Democrats:
Well, we don't have to go halfway beyond the fundamentals. President Trump's fundamentals are good. Who can oppose ending the Visa Lottery? Who wants to continue the lawlessness? Who wants to allow … create a situation in which you get amnesty, illegality for young people that are here and not end up with a legal system that will be enforceable in the future? There's nothing mean-spirited about it. … We admit one million people a year lawfully into America. Hundreds of thousands of workers are here in addition to that, every year taking jobs. [Emphasis added]

…

So we're not talking about ending immigration. … The president is in no way talking about being unkind. And if sometime in the future, after the illegality has ended, we can begin to talk about people who have been here a long time and who have not violated our laws in other ways.
Despite the Republican establishment and Democrats' demand to give amnesty to DACA illegal aliens, the political establishments have remained steadfast in their support for mass immigration.

For Republican establishment-types, an end to chain migration would put them at odds with their business donors who want a continued flow of cheap foreign workers to keep U.S. wages stagnant.

For Democrats, an end to chain migration would cripple their future electoral dominance plan where the immigration process is set to add seven to eight million foreign-born voters in the next two decades, as Breitbart News reported.

The chain migration importation of eight million new foreign-born voters in the next two decades would be double the size of the annual number of U.S. births; about four million American babies are born every year.

Overall, including all legal immigration and not just chain migration, the U.S. is on track to bring in about 15 million new foreign-born voters in the next 20 years, as the country continues admitting more than one million legal immigrants every year.

As previous research has concluded, foreign-born voters favor the Democrats over Republicans by a ratio of two-to-one, potentially handing Democrats federal electoral victories for generations.

Every year the U.S. admits more than 1.5 million foreign nationals, with the vast majority deriving from family-based chain migration, whereby newly naturalized citizens can bring an unlimited number of foreign relatives to the U.S. In 2016, the legal and illegal immigrant population reached a record high of 44 million. By 2023, the Center for Immigration Studies estimates that the legal and illegal immigrant population of the U.S. will make up nearly 15 percent of the entire U.S. population.

The Washington, DC-imposed cheap labor economic model of mass importing low-skilled foreign workers to compete for U.S. jobs with America's working and middle-class has lead to decades of poor job growth, stagnant wages, and increased public costs to offset the mass importation of foreign nationals.

Via http://www.breitbart.com/big-government/2018/02/18/jeff-sessions-daca-deal-last-real-opportunity-enact-immigration-agenda-serves-national-interest/

CRTXNEWS. All rights reserved