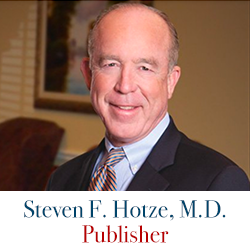 May 3, 2017
Steven F. Hotze, M.D.
Publisher, CRTX News
www.crtxnews.com
Jared Woodfill, President of Conservative Republicans of Texas PAC, has put out a statewide call for conservative Christian candidates to run for state representative against the spineless, yellow-belly Texas Republican state representatives who have not had the courage to support SB 6. This bill protects the privacy and safety of their mothers, wives, daughters and granddaughters.  They have refused to support SB 6 and in doing so they have effectively chosen to "Pee with the LGBT."
If a man does not have the courage to protect women and girls and keep them from harm's way, then he is as worthless as chaff that the wind drives away, or as a three-day old pot of urine.
What is so hard about supporting legislation that says, "No Men in Women's Bathrooms"? SB 6 is supported by 84% of Republican primary voters.
SB 6, the Women's Privacy Act, "No Men in Women's Bathrooms!" is Lt. Gov. Patrick's top priority. Speaker Straus has not even referred it to a committee for a hearing in the House. This is a slap in the face to Lt. Gov. Patrick and the Texas Senate, which passed SB 6 on March 14 by a 21-10 margin.
If you live in the district of any one of the following Republican legislators who does not support SB 6 and would like to be a candidate for state representative in the 2018 Republican primary, then contact Jeff Yates, a very successful political consultant in Houston, with whom I work closely, and let him know your interest. He can be reached by email at jeffryyates@gmail.com.
Call Speaker Straus today at (512) 463-1000 and tell him to let the Texas House vote on SB 6, The Women's Privacy Act, "No Men in Women's Bathrooms!"
The following is a list of Texas Republican state representatives who would not publicly support SB 6 when asked by various conservative leaders or who publicly opposed SB 6. Either way these state representatives have sided with the homosexual political movement, "I Pee with the LGBT."
Call your state representative and tell him to support SB 6, "No Men in Women's Bathrooms."
Republican Representatives that Oppose SB 6 and side with "I Pee with the LGBT." They need to be replaced.
| | | | |
| --- | --- | --- | --- |
| Dist. | First | Last | Phone Number |
| 105 | Rodney | Anderson | (512) 463-0641 |
| 57 | Trent | Ashby | (512) 463-0508 |
| 18 | Ernest | Bailes | (512) 463-0570 |
| 25 | Dennis | Bonnen | (512) 463-0564 |
| 113 | Cindy | Burkett | (512) 463-0464 |
| 83 | Dustin | Burrows | (512) 463-0542 |
| 112 | Angie Chen | Button | (512) 463-0486 |
| 98 | Giovanni | Capriglione | (512) 463-0690 |
| 11 | Travis | Clardy | (512) 463-0592 |
| 8 | Byron | Cook | (512) 463-0730 |
| 54 | Scott | Cosper | (512) 463-0684 |
| 82 | Tom | Craddick | (512) 463-0500 |
| 17 | John | Cyrier | (512) 463-0682 |
| 136 | Tony | Dale | (512) 463-0696 |
| 72 | Drew | Darby | (512) 463-0331 |
| 134 | Sarah | Davis | (512) 463-0389 |
| 69 | James | Frank | (512) 463-0534 |
| 84 | John | Frullo | (512) 463-0676 |
| 99 | Charlie | Geren | (512) 463-0610 |
| 97 | Craig | Goldman | (512) 463-0608 |
| 52 | Larry | Gonzales | (512) 463-0670 |
| 4 | Lance | Gooden | (512) 463-0458 |
| 33 | Justin | Holland | (512) 463-0484 |
| 127 | Dan | Huberty | (512) 463-0520 |
| 32 | Todd | Hunter | (512) 463-0672 |
| 45 | Jason | Isaac | (512) 463-0647 |
| 12 | Kyle | Kacal | (512) 463-0412 |
| 88 | Ken | King | (512) 463-0736 |
| 102 | Linda | Koop | (512) 463-0454 |
| 44 | John | Kuempel | (512) 463-0602 |
| 71 | Stan | Lambert | (512) 463-0718 |
| 122 | Lyle | Larson | (512) 463-0646 |
| 108 | Morgan | Meyer | (512) 463-0367 |
| 30 | Geanie | Morrison | (512) 463-0456 |
| 53 | Andrew | Murr | (512) 463-0536 |
| 9 | Chris | Paddie | (512) 463-0556 |
| 21 | Dade | Phelan | (512) 463-0706 |
| 62 | Larry | Phillips | (512) 463-0297 |
| 87 | Four | Price | (512) 463-0470 |
| 14 | John | Raney | (512) 463-0698 |
| 59 | JD | Sheffield | (512) 463-0628 |
| 55 | Hugh | Shine | (512) 463-0630 |
| 121 | Joe | Straus | (512) 463-1000 |
| 1 | Gary | VanDeaver | (512) 463-0692 |
| 114 | Jason | Villalba | (512) 463-0576 |
| 47 | Paul | Workman | (512) 463-0652 |
| 10 | John | Wray | (512) 463-0516 |
| 28 | John | Zerwas | (512) 463-0657 |
These spineless, yellow-belly Republican legislators must be sent their pink slips. How in the world are we going to save our Christian culture and advance Biblical values if our elected Republican legislators do not have the courage to fight the homosexual political movement's attempt to use the power of law to force us to accept, affirm and celebrate sexually deviant and perverted lifestyles?

The wicked homosexual political movement and their lackeys in the legislature want local government and public schools to allow perverted men and boys, who fantasize that they are women, to enter women's and girls' bathrooms, showers and locker rooms. The homosexuals want to create moral and sexual anarchy.

How hard is it to support legislation that would prohibit men and boys from entering women's bathrooms, showers and locker rooms? This is a no-brainer. 84% of Republican Primary voters agree, "No Men in Women's Bathrooms!"

Again, if you live in the district of any one of these Republican legislators who does not support SB 6 and would like to be a candidate for state representative in the 2018 Republican primary, then contact Jeff Yates at jeffryates@gmail.com.

All that is necessary for evil to triumph is for good men to do nothing.

"Through God we shall do valiantly, and it is He who will tread down our adversaries." (Psalm 108:13)

CRTXNEWS. All rights reserved