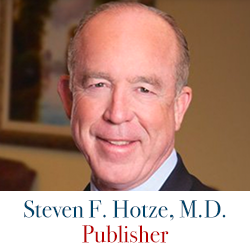 August 12, 2017
Andy Schlafly
Phyllis Schlafly Eagles
Steven F. Hotze, M.D.
Publisher, CRTX News
www.crtxnews.com
The denial of even a hearing, let alone a floor vote, in the Texas House on Senate Bill 3, the Women's Privacy Act, "No Men in Women's Bathrooms," is a shameful act of defiance by Speaker Joe Straus.  This bill passed with the unanimous support of all Texas Republican Senators, under the courageous leadership of Lieutenant Governor Dan Patrick.
There should be strong outrage from Governor Greg Abbott, who has the full authority to call special sessions and set their agenda.  Although he included the Bathroom Bill as an item in his call for this legislative session, he has not forcefully addressed the need for this piece of legislation.
Repeatedly Abbott has avoided being a leader on this issue of privacy for girls and women against predators who access their restrooms and showers by pretending to be transgendered. He has left that duty with Lt. Gov. Dan Patrick. Abbott's lack of leadership on this issue is not what conservatives thought they were electing when they supported him in his primary and general election three years ago.
Speaker Straus is bearing the brunt of public criticism over his inaction on this essential bill to protect the privacy of girls and women in restrooms and locker rooms in Texas, and rightfully so, but Governor Abbott is the man behind the scenes, whose tepid support of this critical issue has resulted in Straus' deplorable conduct.
Straus made it clear through his comments that he planned on defeating Gov. Abbott's and Lt. Gov. Patrick's conservative agenda, specifically the "Bathroom Bill," in the Special Session. Straus blocked the vast majority of conservative legislation that was supported by Gov. Abbott and passed by the Texas Senate during the Regular Session.  Straus did not even give these conservative pieces of legislation a committee hearing in the House.
When Gov. Abbott called the Special Session, Straus had the gall to call the Special Session a "Pile of Manure." Straus threw down the gauntlet to both Gov. Abbott and Lt. Gov. Dan Patrick. Both Abbott and Patrick are strong, outspoken conservatives who were elected to their respective offices in 2014 by over 58% of Texas voters. Abbott and Patrick represent the mainstream view of Texans.
RINO Straus was quoted in The New Yorker Magazine. "We came very close this session to passing a sweepingly discriminatory policy. It would have sent a very negative message around the country."
"The legislature is not obligated to act upon his (Gov. Abbott's) agenda items within the thirty-day period. And the Governor would have the option to call as many thirty-day sessions as he would like. We're under no obligation to pass anything." 
This is why the Republican state representatives must "Oust Straus" now during this Special Session.
All Abbott needs to do is let Straus and the Texas House know that he intends to call a second Special Session to address the "Bathroom Bill," and force Straus to hold a vote on the House floor.  Instead, it seems that Straus is confident that Abbott will not hold his feet to the fire on this issue and that Abbott will not call another Special Session.
Texas Governor Rick Perry called a second Special Session when liberals disrupted parliamentary procedure to prevent an omnibus pro-life bill, H.B. 2, from passing in 2013. Governor Abbott portrays himself publicly to be as conservative as Governor Perry was. He can prove it by calling a second Special Session to address the Women's Privacy Act, 'No Men in Women's Bathrooms!"
Surely, Gov. Abbott will not bow to the pressure of a small group of big business executives and professional sport organizations who oppose this legislation. Texans will not sell out their "daughters for dollars." Neither should Abbott.
Abbott has heard the outcry by grassroots conservatives to take action on the "Bathroom Bill." 81% of Republican primary voters agree that there should be "No Men in Women's Bathrooms!"
Abbott must make it clear to Straus that he expects the Texas House to pass the "Bathroom Bill" in order to protect the privacy and safety of women and girls. Abbott must call a second Special Session to pass this legislation. By doing this Abbott will confirm the trust that voters placed in him by overwhelmingly electing him to be governor. Abbott needs to make Straus understand that he will not cave in on this critical issue, but that he will meet Straus head on and carry the day.
Were Abbott to concede to Straus on the women's privacy and safety issue, it would deny the people of Texas a vote in the House on the most important bill of the year.  Abbott would then be letting down millions of conservatives who elected him governor and millions of girls and women who would no longer feel safe in a bathroom, shower or locker room.
Abbott cannot afford to have his principles superseded by what high-roller, big business donors, like the Koch brothers, want. These fat cats care more about dollars than about protecting the privacy and safety of women and girls.  Increasingly influential in the Republican Party in Texas and elsewhere, the Koch brothers have a pro-homosexual agenda that opposes socially conservative legislation like the "Bathroom Bill."
Coincidentally, in a few days there will be special election for the U.S. Senate in Alabama, with a tight race between Justice Roy Moore, who has stood courageously against the homosexual agenda, and Luther Strange, who is Mitch McConnell's RINO choice.  Texas voters expect Abbott to strongly advocate the passage of SB 3, the Women's Privacy act, "No Men in Women's Bathrooms." Abbott and Texas should set a political example for Alabama voters to follow.
Speaker Straus should surely be defeated in his primary for not allowing a vote on the "Bathroom Bill."  Governor Abbott will be held political accountable also, if he capitulates to Straus.
Unlike Straus, Abbott proclaims to be a strong social conservative at election time. Abbott can prove this by demonstrating to conservative voters that he will fight for them against the Alt-Left's goal of radically changing our fundamental values.
Abbott must remain faithful to the Texas grassroots voters who supported his election.  Straus will be held accountable by voters, but so will Abbott.
CRTX News is making a difference in Texas politics and in the Texas Legislature. In order for us to keep you informed we need your support.
Would you please consider supporting the efforts of CRTX News to keep you informed by clicking here https://crtxnews.com/donate/? Your support of $25, $50, $100 or more will help us keep you informed. Thank you for your support.
All that is necessary for evil to triumph is for you to do nothing.
"Through God we shall do valiantly, and it is He who will tread down our adversaries." (Psalm 108:13)
Please be sure to refer your like-minded Christian and conservative family members and friends to our website, www.crtxnews.com. Forward this article to them.
CRTXNEWS. All rights reserved www.crtxnews.com