A quiet morning at a church in Sutherland Springs, Texas, turned into a bloodbath Sunday when a gunman dressed in full combat gear walked in and opened fire during services, killing at least 26 people and injuring 20 others, including children.
The shooting erupted about 11:20 a.m. Central Time at the First Baptist Church, with about 50 people in attendance during the onslaught.
At a news conference Sunday evening, the Texas Department of Public Safety said the shooter, dressed in black an wearing a bulletproof vest, initially started shooting outside the church, before moving inside and continuing to fire.
Witnesses said the shooter had time to reload his weapon.
Upon his exit, a local resident grabbed his own rifle and engaged the subject. The suspect dropped his weapon and then got into a vehicle where a chase ensued. The suspect's vehicle eventually ran off the roadway and the shooter was found deceased in his vehicle.
At this time, it is unclear if Kelley took his own life or was mortally wounded by the resident.
On Kelley's Facebook page, which has now been deleted,  a gun was displayed in a car seat, with the message, "She's a bad b-tch."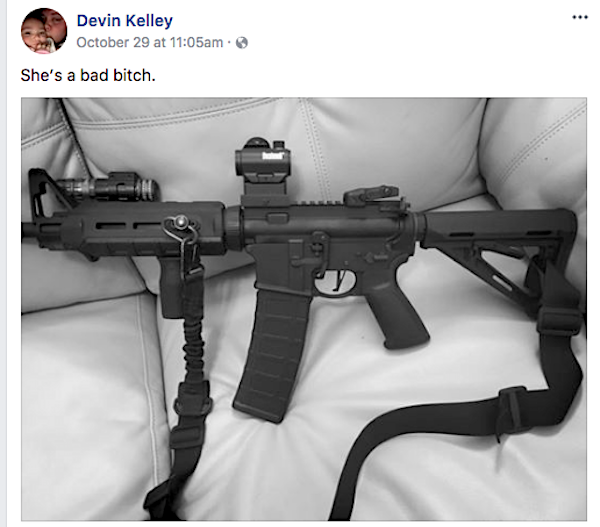 "My heart is broken," Wilson County Commissioner Albert Gamez Jr told CNN. "We never think where it can happen, and it does happen. It doesn't matter where you're at. In a small community, real quiet and everything, and look at this, what can happen."
A two-year-old child is reported among the 20 people injured.
The fatal victims range from 5 years old to 72, including a pregnant woman.
First Baptist Church Pastor Frank Pomeroy told ABC that his 14-year-old daughter is among the dead.
She "was one very beautiful, special child," said the pastor, who was out of town at the time of the attack.
The incident is the deadliest shooting at a place of worship in modern U.S. history, surpassing the nine killed at Emanuel AME Baptist Church in Charleston, South Carolina, in 2015.
"May God be w/ the people of Sutherland Springs, Texas," tweeted President Donald Trump. "The FBI & law enforcement are on the scene. I am monitoring the situation from Japan."
Later from Tokyo, Trump added: "We pull together, we join hands we lock arms and through the tears and through the sadness, we stand strong, oh so strong.
"All of America is praying to God to help the wounded and their families. We will never ever leave their side."
The president's daughter, Ivanka Trump, tweeted: "God bless the people of Sutherland Springs, TX. Our country's hearts are breaking for the victims & their families. We love & are with you!"
"Our prayers are with all who were harmed by this evil act," said Texas Gov. Greg Abbott in a tweet Sunday afternoon. "Our thanks to law enforcement for their response."
"We ask for God's comfort, for God's guidance, and for God's healing for all those that are suffering," Abbott said later at a news conference.
"My dad saw the gunman run into the church building and then he heard shots and saw people running," David Flores told CNN. "People covered in blood and screaming. It was pandemonium everywhere."
"Looking around, it's very sorrowful and the pastors from all the local churches right now are just trying to console everybody," said Flores.
"There were several children injured," he said. "I know three, personally, who are in critical condition."
Jim Richards, executive director of the Southern Baptists of Texas told Fox News: "This tragedy is just incomprehensible."
"They're wanting to see lives transformed. And just to have such a demonic attack. It is a spiritual war we're involved in."
"The motive is irrelevant," he continued. "It is evil. We live in a fallen world. All of us have a propensity toward evil …"
"Only by a personal relationship with Christ can we have the power to overcome evil in our lives. … The root of it comes from the very depths of evil, and it is demonic. … This will not stop the gospel of Christ."
Texas Attorney General Ken Paxton said, "I can imagine these people [in Sutherland Springs] are devastated. … Who expects this on a Sunday morning at a church? It's evil. It's hard to justify why anyone would do this."
Joel Osteen, the well-known megachurch pastor from the Houston area, tweeted: "We are deeply saddened by the terrible shooting in Sutherland Springs, Texas. Our heartfelt prayers go out to all those affected."
Texas Lt. Gov. Dan Patrick said: "I have seen these mocking attacks on Christians as if it's OK. … We will not be shaken by wicked people, evil people, who come against Americans. … We stand for good. We stand for liberty. We stand for freedom. … The wickedness in this world targets everyone."
Dan Bongino, a former U.S. Secret Service agent, told Fox News, "Churches sadly have become a very convenient target."
"They contain natural chokepoints … There's only as couple of ways to go in. There's only a couple of ways to go out. … There's really nowhere to hide in a church. … They sadly are targets for really deranged people. … It's time for churches to start thinking about hardening up their locations. It gives me no joy to say that."
CRTXNEWS. All rights reserved www.crtxnews.com