By Onan Coca
Constitution
Twitter reneged on the promotion of a former pastor's new book on biblical marriage, citing its policy against promoting hate speech.
Former pastor Craig Stellpflug paid Twitter to promote his book "One Man One Woman: God's Original Design For Marriage" on July 2, according to Christian Post. Twitter began publicizing ads for the book, but sent Stellpflug an email the day after saying that his ads were not approved and he could not use Twitter's advertising platform because his book was considered "hate speech," as defined by the company's policy.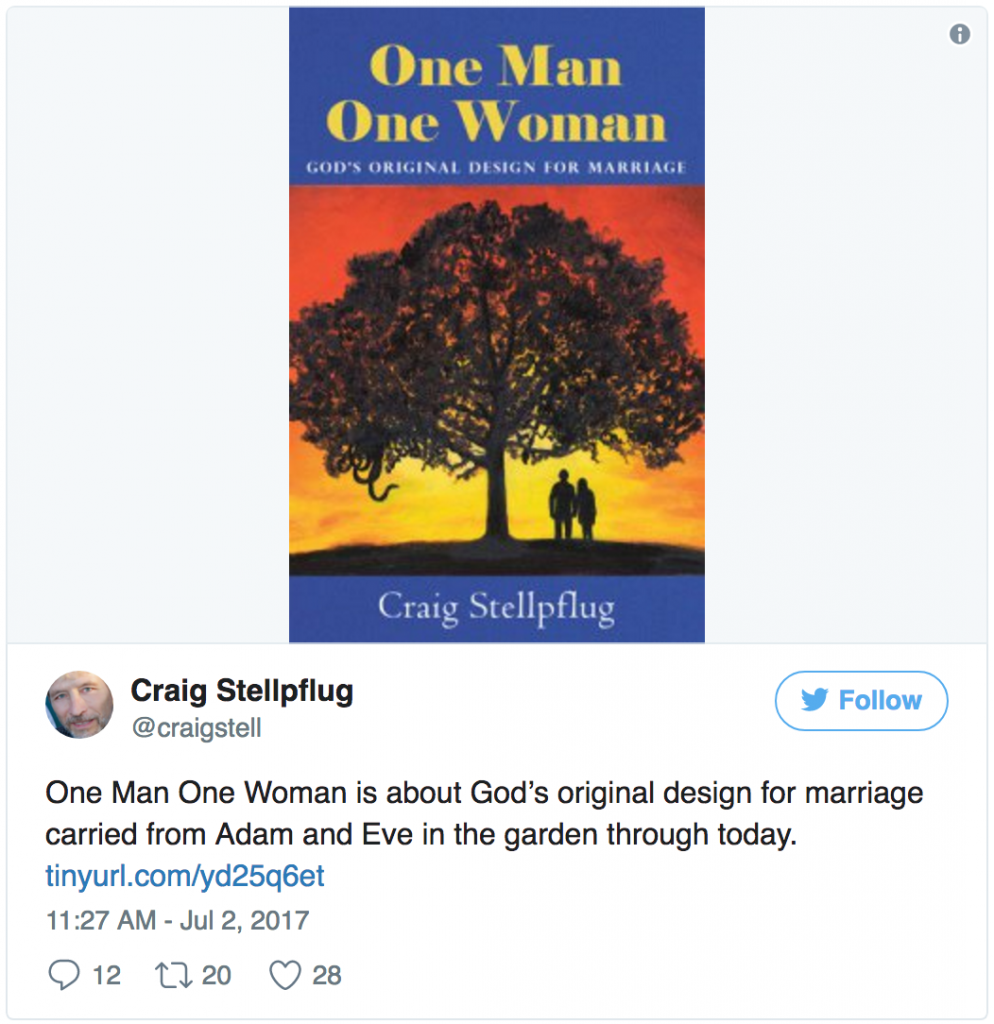 "They started promoting it, they took my money," Stellpflug said. "Then, I get that email that tweet was not approved and that it was determined to be hate."
Stellpflug argued that his book does not focus on homosexuality and was not anti-gay, but rather focuses on a proper understanding of biblical marriage.
"In fact, I address different issues — homosexuality, adultery, divorce, pornography and other like issues," Stellpflug said. "I don't give any special weight to homosexuality."
Twitter instituted its new hate speech policy March 1, ostensibly as a reaction to prior failures to filter out abusive accounts, mainly those deemed as alt-right or white supremacists.
The policy gives several definitions of banned content, including:
Hate speech or advocacy against an individual, organization or protected group based on race, ethnicity, national origin, color, religion, disability, age, sex, sexual orientation, gender identity, veteran status or other protected status.
Inflammatory content which is likely to evoke a strong negative reaction or cause harm.
Conservatives pointed to what they perceive to be a double standard in the application of this policy, according to USA Today. Twitter banned conservative firebrand Milo Yiannopoulos for tweets aimed at actress Leslie Jones, and the social media platform also censored law professor Glenn Reynolds for tweeting about anti-police protestors.

Twitter did nothing, however, when rapper Talib Kweli rallied his followers to harass Breitbart reporter Jerome Hudson with racial insults.

Via http://constitution.com/twitter-bans-pastors-book-hate-speech-quotes-bible/

CRTXNEWS. All rights reserved www.crtxnews.com

CRTXNEWS. All rights reserved