May 15, 2017
Jared Woodfill, Esquire
Editor-in-Chief, CRTX News
President, Conservative Republicans of Texas
Dr. Ed Young and the Second Baptist Church of Houston are to be commended for providing bold leadership, encouraging their members to support SB 6, "No Men in Women's Bathrooms!" Yesterday, Second Baptist Church challenged the members of their congregation to assume the responsibility of protecting the privacy and safety of women and girls by contacting Governor Greg Abbott. They were motivated to encourage Abbott to support SB 6 and also to ask him to hold a Special Session to pass SB 6 if the Texas House does not vote on it before the end of the current legislative session that ends May 31. SB 6 would prohibit perverted men and boys, who sexually fantasize that they are women, from entering women's and girls' bathrooms, showers and locker rooms.
SB 6 was overwhelmingly passed by the Texas Senate on March 14 by a 21-10 margin. It was immediately sent to the Texas House where RINO Speaker Joe Straus has let it gather dust. Straus has not even referred it to a committee. Over 84% of Republican primary voters statewide support SB 6.
Matthew 5:13-14 calls upon Christians to be the "salt of the earth."  Jesus further states that "You are the light of the world. A city on a hill cannot be hidden."  Salt is a preservative and prevents food and meat from spoiling. Light exposes darkness. Similarly, if we the church are to impact our culture and preserve our Judeo-Christian heritage, we, the church, must have a preserving and lighting impact upon our culture by being salt and light in the world, involving ourselves in the current issues of our day.
To be that shining city on a hill, the church must engage in the cultural war, not abandon the field to the godless and wicked.  We must attack the atheistic, Marxist left with the courage and confidence that comes from a fear of the Lord. "In the fear of the LORD there is strong confidence." (Proverbs 14:26) What is the fear of the LORD? "The fear of the LORD is to hate evil; pride, arrogance, and the evil way and the perverted mouth, I hate." (Proverbs 8:13)
SB 6, the Texas Women's Privacy Act, "No Men in Women's Bathrooms!", is being held hostage by Speaker Joe Straus and his puppeteer, Rep. Byron Cook, and by their lieutenants and lackeys in the Texas House.  However, we have not given up.  It appears that there will be a Special Session and we asking Governor Abbott to add SB 6 to the Special Session call.
CTRX News has made over 2,000,000 phone calls to Republican primary voters (RPVs) and over 100,000 of them have contacted their legislators and the Governor in support of SB 6. CRTX News has engaged hundreds of thousands of RPVs through emails and social media, requesting the legislators and Governor Abbott to support SB 6 and asking Abbott to call a Special Session on SB 6 in June if Straus and Cook refuse to allow the House to vote on it.
As I sat in the pew, at the close of the Second Baptist Sunday service yesterday, Pastor Lee Maxey asked the members of the congregation to engage in this battle, requesting that they call or email Governor Abbott and request that he call a Special Session. It appears that there will be a need for a Special Session already because some key bills did not pass the House.
You should contact Abbott's office today and request that he add SB 6 to the call for a Special Session. Governor Abbott may be contacted at (512) 463-2000 or at info@gregabbott.com.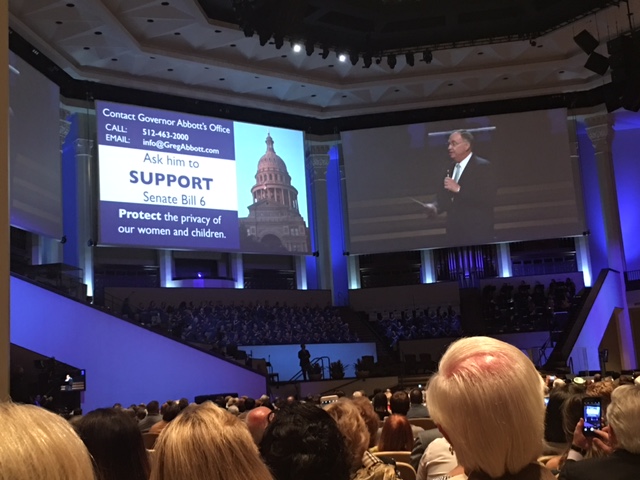 This type of bold leadership, coming from the pulpit at Second Baptist Church, fills me with encouragement. Dr. Ed Young and his team at Second Baptist continually demonstrate the courage of their convictions. If other churches will take Dr. Young's lead and engage in the cultural war, simply applying the Word of God to the issues of our day, then we will restore our nation to its Christian heritage. We will experience a spiritual revival that will impact every area of life, including civil government. This will result in legislation being adopted that protects innocent human life, respects biblical marriage between one man and one woman, and that embraces our Judeo-Christian Biblical heritage rather than abandoning it.
In Jesus's name, I pray that God would bring about this spiritual revival in Texas and across America.
Please ask your pastors to follow Dr. Young's lead in calling the Church to be salt and light in this fallen world.  If the men of God in the churches will stand up for Christ and the Bible, and let their voices be heard in the public square, then America can be restored and once again be that shining city on a hill.
Peace, liberty and prosperity are all founded upon the practice of Biblical morality.
All that is necessary for evil to triumph is for good men and women to do nothing.
"Through God we shall do valiantly, and it is He who will tread down our adversaries." (Psalm 108:13)
Read the Four Spiritual Laws
http://www.4laws.com/laws/englishkgp/default.htm