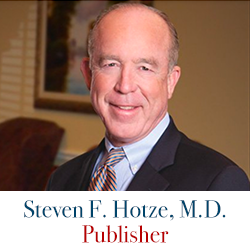 May 9, 2017
Steven F. Hotze, M.D.
Publisher, CRTX News
www.crtxnews.com
RINO Speaker Joe Straus and his puppeteer, RINO Rep. Byron Cook, have refused to allow SB 6, the Women's Privacy Act, "No Men in Women's Bathrooms!" even to be referred to a House committee, although it was overwhelmingly passed by the Texas Senate, 21-10, on March 14.  This is a slap in the face of Lt. Gov. Dan Patrick, the Texas Senate and the 84% of Republican primary voters who support "No Men in Women's Bathrooms!"
Today was the last day for any House bill (HB) to be placed on the schedule for a vote by the Texas House. Although SB 6 has not seen the light of day in the House, HB 2899, a weakened version of SB 6, had a hearing in Cook's State Affairs Committee three (3) weeks ago. It was never voted upon by the committee. In order for HB 2899 to be voted upon by the Texas House, it had to be placed on the House calendar today. The final deadline for House bills to be passed is this Thursday, May 11. It could have been strengthened through amendments, incorporating SB 6 language onto it. 75 Republican state representatives had signed onto HB 2899, which is half the members of the 150 member Texas House.  Cook and Straus did not allow HB 2899 to be scheduled because they are not concerned about protecting the privacy and safety of women and girls in bathrooms, showers or locker rooms.
Rep. Tan Parker, the solidly conservative chairman of the 95 member Republican House Caucus, and Rep. Ron Simmons, sponsor of HB 2899, had been working diligently on pushing this bill with Straus and Cook for the past 4 weeks. They had been led to believe by Straus and Cook that HB 2899 would be placed on the House calendar for a vote. It wasn't. Parker and Simmons realize what Straus and Cook really think of them.
Now the Texas House is left to deal with SB 6, "No Men in Women's Bathrooms!" SB 6 can still be passed before the end of the session on May 31.

Straus and Cook are unalterably opposed to Lt. Gov. Dan Patrick and have made sure that his conservative legislative agenda is dead on arrival in the Texas House. Patrick's #1 priority is to protect the privacy and safety of women and girls by preventing men and boys, who fantasize that they are women, from entering women's and girls' public and school bathrooms, showers and locker rooms.
The focus now shifts to Governor Greg Abbott who has stated that he is not going to allow boys into girls' bathrooms, showers or locker rooms in Texas schools. Abbott worked to get Straus and Cook to pass HB 2899. Straus and Cook slapped him in the face just like they did Patrick, Parker and Simmons.
Abbott now needs to come out with both barrels blazing in favor of SB 6. Abbott needs to tell Straus and Cook that unless they allow SB 6 up for a vote by the Texas House, he will call a Special Session to address this issue.
Action for you to take today:
Call Gov. Abbott's office at (512) 463-2000 and tell him to publicly support SB 6 and warn Straus, Cook and the Texas House that he is going to call a Special Session unless they allow a vote on SB 6.
Christians across America are watching to see if Texas will take a stand against the wicked homosexual political movement which is attempting to use intimidation and the power of the law to deny Christians their First Amendment religious and free speech freedoms. The evil homosexual political movement wants to force you, schools, churches, businesses, and civil governments to accept, affirm and celebrate those who practice homosexual behavior and other sexually deviant lifestyles.

"He who says to the wicked, 'You are righteous,' peoples will curse him, nations will abhor him, but to those who rebuke the wicked will be delight, and a good blessing will come upon them." (Proverbs 24:24-25)

All that is necessary for evil to triumph is for good men and women to do nothing.

"Through God we shall do valiantly, and it is he who will tread down our adversaries." (Psalm 108:13)

Let's press the battle to its successful conclusion!

Here is a simple explanation of the way of salvation through Jesus Christ.

Read the Four Spiritual Laws – http://www.4laws.com/laws/englishkgp/default.htm

CRTXNEWS. All rights reserved www.crtxnews.com

CRTXNEWS. All rights reserved