…been in the news for her meeting with Donald Trump Jr. in New York back in June of 2016.
"They [the DNC source] claimed the Russian lawyer had met with Rich about a month before his death, four to six weeks, and Seth provided her with emails that were, apparently, leaked later on WikiLeaks," Burkman revealed to Radar Online.
"We don't know what the Russian lawyer eventually took to Trump Jr. but what I have is a very credible source saying emails were given to her," Burkman elaborated. "Whether she gave them to Trump, Jr., I don't know, but I can't imagine that she wouldn't offer."
The Veselnitskaya connection isn't the only possible link between Rich, Russia and Trump's son.
"We also have emerging evidence from a source that Seth Rich met with publicist Rob Goldstone about the DNC emails prior to his death!" hinted Burkman in a recent Twitter post.
"Yes, the same Rob Goldstone that was in the Donald Jr. Russia meeting," he clarified.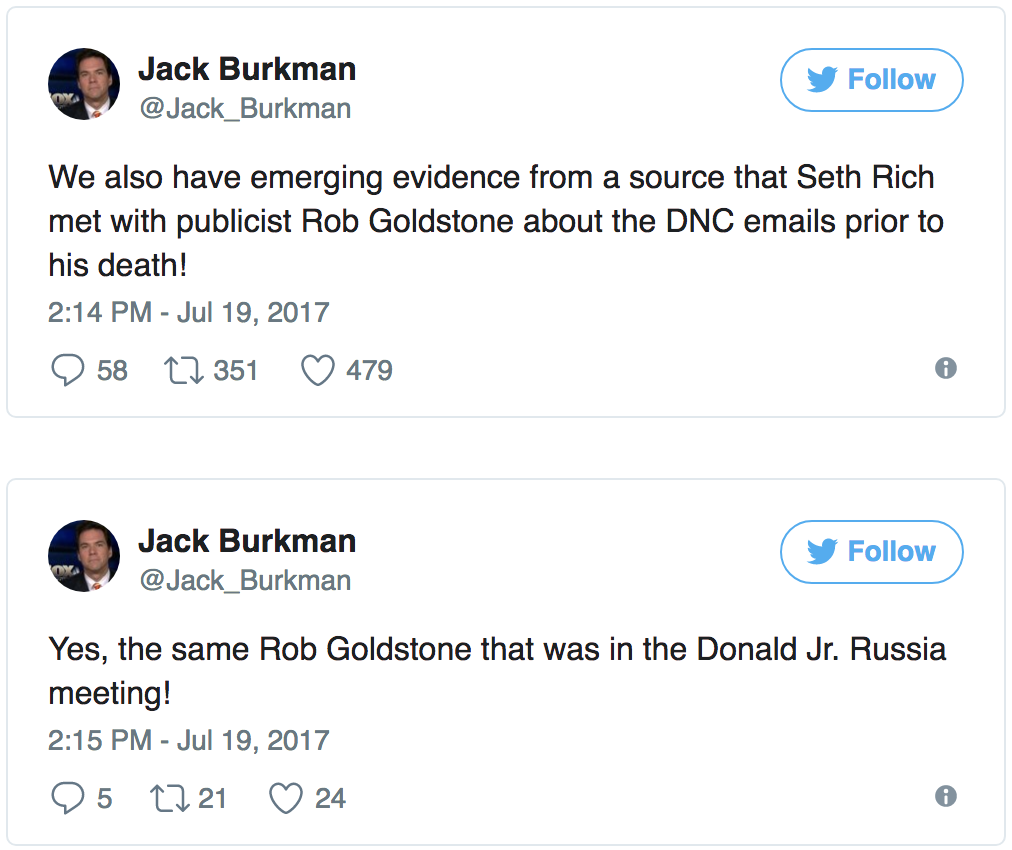 If the new information is accurate, it could blow the lid off of both the Seth Rich mystery and the Donald Trump Jr. story.

One fact that is known for sure is that Rich was found murdered near his home in Washington, D.C. on July 10, 2016.

The unsolved killing has been dismissed as a simple robbery gone wrong by the police, but many questions surround the case.

"Seth's death does not appear to be a random homicide," stated a report from The Profiling Project.

Citing examples such as the fact that Rich's valuables were not stolen from his body, that report suggested that "Seth's death does not appear to be a robbery gone bad" and was "more likely committed by a hired killer or serial murderer."

"The crime-scene appeared to be almost sanitized … No firearms casings were reported to be found, no physical evidence was reported," continued The Profiling Project.

A political staffer silenced by death after delivering damning documents to a Russian source may sound like the plot of a thriller novel, but life sometimes does imitate art.

In reality, it isn't so far-fetched to imagine that a power-obsessed and deeply connected politician could have taken drastic measures against somebody who threatened their White House victory.

For the first time, a link between the infamous DNC emails and Seth Rich murder may have been revealed.

There are still more questions than answers, but unraveling a mystery often starts with pulling at one loose thread.

Via http://conservativetribune.com/seth-rich-made-shock-delivery/2/

CRTXNEWS. All rights reserved www.crtxnews.com

CRTXNEWS. All rights reserved