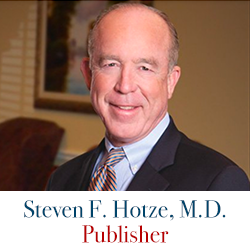 July 31, 2017
Steven F. Hotze, M.D.
Publisher, CRTX News
www.crtxnews.com
(Proverbs 25:26) "Like a trampled spring and a polluted well, so is a righteous man who gives way before the wicked."
When a God-fearing leader falters and retreats before the wicked, it is a very lamentable occurrence. It discourages those who were looking to that individual for encouragement and moral strength. When an upright leader fails to demonstrate the courage of his convictions, his followers to do the same and falter in the battle in which they are engaged. The adverse consequences are innumerable. It boldens the wicked and sows discouragement in the hearts of the righteous army, causing them to retreat.  God's word compares this leader to a trampled spring and a polluted well.
When a great leader loses his confidence in God to deliver him and his troops in battle, the men who follow him are infected with his cowardice.
Our God is the Mighty God, who is greatly to be feared and obeyed. He is the Sovereign who rules over the nations and Who intervenes in the affairs of men. God has established His throne in the Heavens and He is the Great Ruler over all the world. His name is highly exalted.
Men of God, rise up and assert leadership! We must restore our nation to its Godly, Christian, Biblical heritage.
"Who will stand up for me against evildoers? Who will take his stand for me against those who do wickedness?" (Psalm 94:16)
CRTXNEWS. All rights reserved www.crtxnews.com