The 84th (2015-16) Legislative Session witnessed a Democratic Texas House delegation that was on the losing side of about as many final passage votes as on the winning side. This represented a sharp contrast to the 2009-14 period, when the average Democrat had a final passage vote win rate that was higher than that of the average Republican. It suggests that Democrats' level of influence on the House legislative agenda declined notably in 2015, with Democrats more frequently unable to both keep legislation they opposed off of the floor as well as to gain majority backing for legislation they supported.
In 2009, 11 Republican representatives joined forces with an overwhelming majority of Democratic representatives to oust Speaker Tom Craddick, R-Midland, and replace him with Joe Straus, R-San Antonio. Speaker Straus thus began his speakership indebted to House Democrats, allowing them a de facto veto over the legislative agenda that year. In 2011 and 2013, Democrats no longer possessed this de facto veto power, but they nevertheless retained substantial influence over the legislative agenda — influence that was reflected in them being more likely on average to be on the winning side of final passage votes than their Republican colleagues, even though during this entire period the Texas House of Representatives had a Republican majority.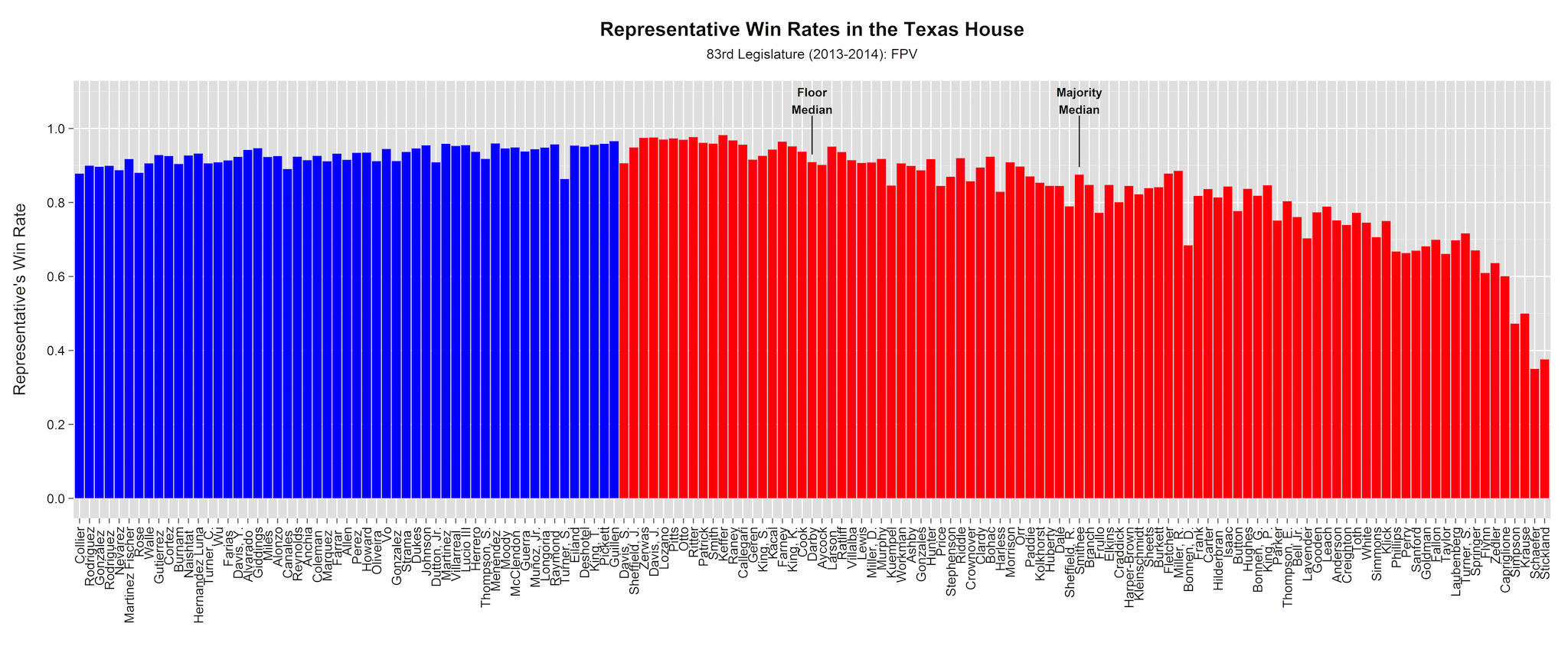 Click image to enlarge
The first figure details the win rates of representatives on non-lopsided (i.e., where at least 2.5 percent of those voting were on the losing side) final passage votes during the 83rd Legislative Session. The representatives are arrayed from left to right based on their Liberal-Conservative Score, with the bars (blue for Democrats, red for Republicans) showing the proportion of final passage votes where they voted and were on the winning side (final passage vote win rate). The win rates of the Democratic representatives ranged from a low of 86 percent to a high of 97 percent, with a median of 93 percent. In contrast, the win rates of the Republican representatives ranged from a low of 35 percent to a high of 98 percent, with a median win rate of 85 percent. Dividing the Republican House delegation into ideological quartiles, only the least-conservative quartile had a median win rate (96 percent) that was higher than the Democratic delegation median. The other three GOP delegation quartiles, moving from left to right, possessed median win rates of 89 percent, 82 percent, and 67 percent.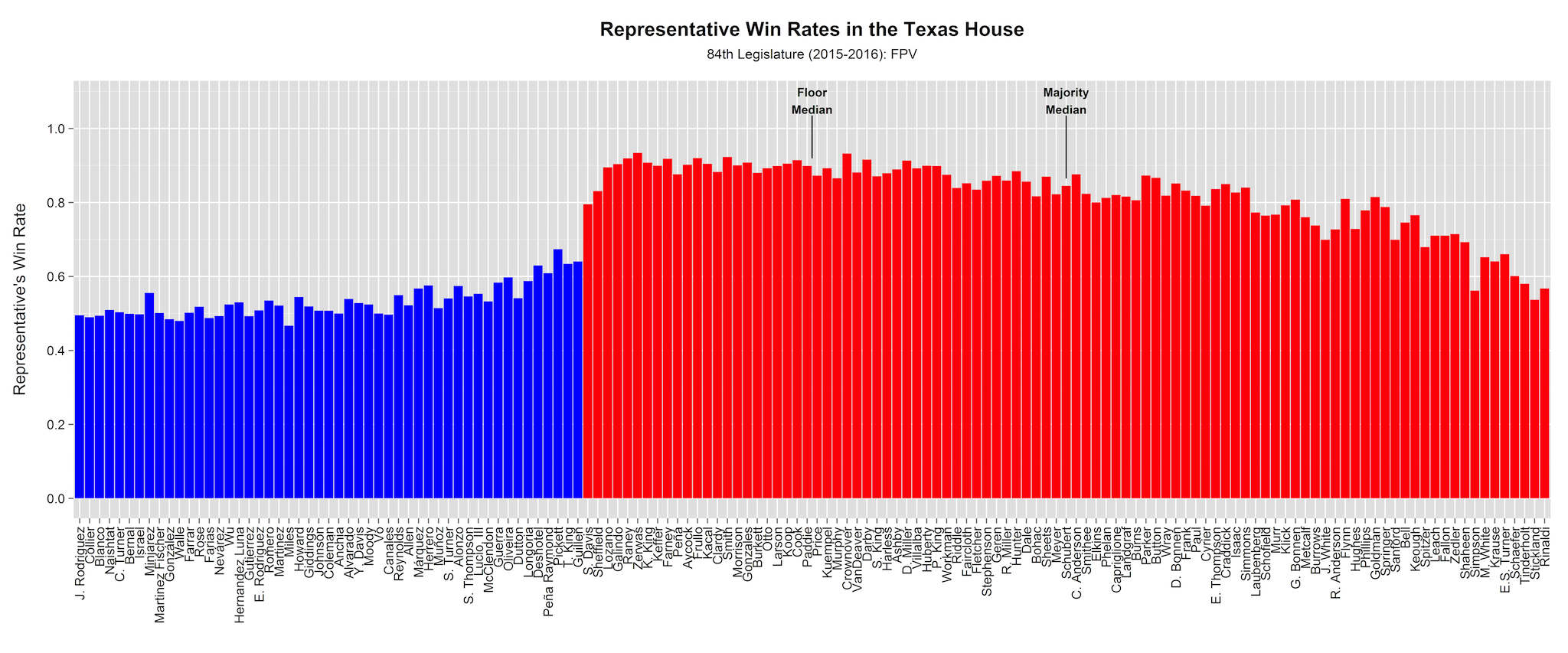 Click image to enlarge
The second figure provides the same type of information on win rates and Liberal-Conservative Scores as the first, but for the 84th Legislative Session. In 2015, Democratic win rates plummeted to lows not seen since 2005 during the zenith of the Craddick speakership. At least from the optic of win rates on final passage votes, the impact of Texas Democrats on the legislative agenda during the 84th Legislative Session was substantially weaker than in the three preceding sessions of Straus' speakership.

The median Democratic win rate in 2015 was a mere 52 percent, with win rates ranging from a low of 40 percent to a high of 67 percent. At 82 percent, the median Republican win rate in 2015 was significantly higher than the Democratic median, with win rates ranging from a low of 54 percent to a high of 93 percent. All of the Republican ideological quartiles had median win rates greater than that of the Democratic delegation median, with the respective win rates declining as the level of conservatism increased among the quartiles: 90 percent, 87 percent, 82 percent, and 71 percent.

As a further example of this change, in 2013 a majority of Republicans (53 out of 94) had a win rate that was lower than that of the Democrat with the lowest win rate. In 2015, only 8 Republicans out of 97 had a win rate that was lower than that of the Democrat with the highest win rate.

In 2015, the win rate gap between the least and most conservative quartiles of the Texas House Republican Caucus narrowed noticeably, from 29 percent in 2013 to 19 percent in 2015. This phenomenon indicates a combination of more movement conservatives aligning themselves with Straus than in the past and Straus and his leadership team shifting the legislative agenda somewhat to the right in order to bring movement conservatives more into the fold. As part of that shift, the House leadership relied more heavily in 2015 on the votes of movement conservative Republicans than on the votes of Democrats to push through its legislative agenda, a contrast to the three preceding sessions when the centrist conservative Republican House leadership on average tended to rely more on the support of Democrats (especially in 2009 and 2013) than on that of their movement conservative GOP brethren.

As we look toward the 85th Legislative Session, Democrats once again find themselves outnumbered in the House, 95 to 55. If Straus and his leadership team follow the same general legislative game plan as in 2015, relying more on the support of movement conservative Republicans than of Democrats, then the influence of Democrats on the House agenda is likely to again be reduced compared to 2013, let alone to their halcyon days of 2009. A corollary of this repeat of 2015 would be a House whose legislative agenda is more in tune with the preferences of more movement conservatives than was the case between 2009 and 2014.

Disclosure: Rice University has been a financial supporter of The Texas Tribune. A complete list of Tribune donors and sponsors can be viewed here.

Via: https://www.tribtalk.org/2016/12/09/the-decline-of-democratic-influence-in-the-texas-house/

By Mark P. Jones, Dec. 9, 2016

CRTXNEWS. All rights reserved