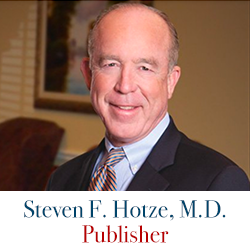 May 23, 2017
Steven F. Hotze, M.D.
Publisher, CRTX News
www.crtxnews.com
This past Sunday night, RINO Speaker Joe Straus attempted to placate the conservative Republican base and to give coverage to the 60 or so Republican state representatives who did not have the courage of their professed convictions to support SB 6. Straus organized a FAKE bathroom amendment to be placed on SB 2078 last Sunday night. It passed overwhelmingly, 90-52.
This amendment, introduced by Rep. Chris Paddie, a member of the Straus team, was simply smoke and mirrors. It was an attempt to deceive supporters of SB 6, the Women's Privacy Act, into thinking that Straus was finally willing to allow the issue of men in women's bathrooms to be voted upon by the Texas House.
Lt. Gov. Dan Patrick was not fooled by Straus' deceitful actions. Patrick made a public statement yesterday, regarding the Paddie Bathroom Amendment on SB 2078, which must be approved by the Texas Senate, of which Patrick is the presiding officer.
Patrick said "In terms of privacy, I had not seen the language on the "Paddie Amendment" on Senate Bill 2078 before it was voted on last night. I also have concerns about its ambiguous language, which doesn't appear to do much.  There is still time for the House and Senate to address these concerns — which are both priorities for Texas voters — in a meaningful way."
Lt. Gov. Dan Patrick's top legislative priority has been to protect the privacy and safety of women and girls in public and school bathrooms, showers and locker rooms. Patrick has provided extraordinary leadership in the Texas Senate and he will not compromise on the principle of "No Men in Women's Bathrooms!"
How difficult is this concept to embrace? Why would there even be a debate over this? This just demonstrates the deterioration of the Biblical moral fabric in our nation and how we must work to restore it.
We need more men and women in our civil government who fear God, like Dan Patrick. "The fear of the Lord is to hate evil; pride, arrogance and the evil way, and perverted mouth, I hate." (Psalm 8:13)
The problem with the Paddie Bathroom Amendment is that it is a FAKE. It is worthless and toothless.
The Paddie Bathroom Amendment to SB 2078
Section 37.113. Restroom, Locker Room and Changing Facility Privacy and Safety.
the board of trustees of the school district or the governing body of an open enrollment charter school shall ensure that each school or school facility accommodates the right of each student to access restrooms, locker rooms, and changing facilities with privacy, dignity and safety by requiring the provision of a single – occupancy facilities for use by a student who does not wish to use the facilities designated for use or commonly used by persons of the student's biological sex. In this subsection, "single occupancy facility" includes a multi-occupancy facility only if the use occurs when no other persons are present.
This section may be enforced only through an action instituted by the Attorney General for mandamus or injunctive relief. At the request of the school district or open enrollment charter school, the Attorney General shall defend the district or school and in an action challenging this section under the constitution or laws of the United States or under the Constitution of this state.
This section may not be construed as requiring or authorizing a school
district or an open enrollment charter school to disclose intimate details about a student.
Here is why this amendment is so pathetic.
There is nothing in the bill that prohibits a perverted boy, who sexually fantasizes that he is a girl, from using the girls' school bathrooms, showers or locker rooms. A single occupancy restroom is required to accommodate him, but he is not required to use it.
There is no definition in Paddie's amendment of what the term "biological sex" means as there is in SB 6.
There is no monetary penalty attached to the bill for school districts that violate this amendment as there is in SB 6. They can violate this law with impunity.
It redefines "single occupancy facility" to mean "multi-occupancy facility" if no other person is present. What?
This amendment does not protect women or girls who use restrooms, showers, or locker rooms in other public facilities, government buildings or universities, or in cities, such as Dallas, Austin or San Antonio, where the so-called "transgendered" are required by law to be able to enter any and all public and private bathrooms, showers or locker rooms, this includes all businesses and churches.
The Paddie amendment effectively recognizes perverted individuals, who call themselves "transgendered," as a specific class and makes accommodation for them. They should no more be considered a protected class than the man in the moon. They should be made to use the bathroom facilities of the biological sex that they were assigned at birth. Girls are required to use the girls' bathrooms and boys to use the boys' bathrooms. This is not rocket science.
View the Language of SB 6 for Contrast

Read SB 6 at http://www.legis.state.tx.us/tlodocs/85R/billtext/html/SB00006I.htm,  and see how strong, clear and direct it is in addressing the problem of perverted men and boys, who have sexual fantasies that they are women, from entering women's and girls' public and school bathrooms, showers and locker rooms.

Senate Bill 6 (SB 6), the Women's Privacy Act, "No Men in Women's Bathrooms!", was passed overwhelmingly by the Texas Senate on March 14 by a 21-10 margin and sent to the House for its approval. Speaker Straus has blocked this bill, despite his promise to the contrary, and has never even sent it to a committee for a hearing, which is required before it could be voted upon by the Texas House. Straus has denied the people's duly elected representatives a chance to debate and vote on SB 6. This was Lt. Gov. Patrick's #1 legislative priority.

This transgender tomfoolery should not be tolerated in the public schools or anywhere in society. Boys should not be permitted to impersonate girls at school. Just like we have a no tolerance policy for illegal drugs or smoking at school, we should also have a no tolerance policy for any promotion of sexual perversion in the schools.

This crazy concept of "transgender" is sheer wickedness and perversion. Perversion is a deviant sexual practice. If a man or boy, who sexually fantasizes that he is a woman, and wants to invade the private and intimate facilities intended for women, isn't a perversion, then the word should be removed from the dictionary. Parents who allow this to occur to their children and who promote it are enabling this perversion. This is child abuse of the highest order. Physicians who provide opposite sex hormones or perform genital mutilation surgery for these individuals are participating and enabling this perversion. Their licenses should be removed.

Just because a man sexually fantasizes, thinks, and feels that he is a woman, doesn't make him a woman, any more than if he fantasizes that he is a dog, and can bark and chase squirrels with the best of them, makes him a dog. Your gender is determined at conception. This is an indisputable biological and medical fact. We cannot build laws around someone's subjective feelings about what sex they think they are on any given day.

The Marxist Democrats and their homofascist allies claim that those of us who believe in common sense and moral decency, by maintaining separate men and women's bathrooms, showers and locker rooms, as has been done in all societies for thousands of years, are deplorable haters, discriminators, and retards. They hurl expletives, and vile, vulgar curses at us. They are intolerant of us for holding to a Biblical standard of behavior.

The homofascist political movement and their Democrat allies want to use the power of the law to force us to accept, affirm and celebrate those that promote and practice immoral and sexually deviant behavior. The want to teach their immorality to our children in the public schools, starting in Kindergarten. The cannot reproduce, so they pervert children's minds at a tender age so that they can be more easily recruited into the homosexual or "transgender" lifestyle.

Christians must rise up and defeat this evil political movement, whose goal it is to destroy all vestiges of Biblical morality in our society and to create moral and sexual anarchy in our nation. The Word of our Living God will defeat them!

What you should do now is contact Governor Abbott and tell him to publicly support SB 6 and to add it to the call for a Special Session.

Call Governor Abbott now at (512) 463-2000.

All that is necessary for evil to triumph is for you to do nothing.


"Through God we shall do valiantly, and it is He who will tread down our adversaries." (Psalm 108:13)

CRTXNEWS. All rights reserved