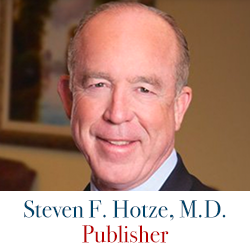 March 6, 2015

Steven F. Hotze, M.D.
Publisher, CRTX News
Jared Woodfill, J.D.
Editor-in-Chief
SB 6, the Women's Privacy Act, would prohibit men, who claim to be women, from entering women's public bathrooms, showers or locker rooms. For thousands of years men and women have had segregated bathrooms for obvious reasons, to protect both the privacy and the safety of women and girls.
The protection of our mothers, wives, daughters and granddaughters is priceless.
"No men in Women's Bathrooms!"
The homosexual political movement and its pro-homosexual supporters in the American Civil Liberties Union (ACLU) produced a TV spot in opposition to SB 6, The Women's Privacy Act. Incredibly, they have decided to frame the issue by asking the voters to join them in saying "I Pee with LGBT."
You can't make this up.
So, the issue of SB 6 boils down to two very different choices.
The position of clear thinking Texans is "No Men in Women's Bathrooms, Showers and Locker Rooms."
The homosexuals' and ACLU's perverted position is "I Pee with LGBT."
"He who justifies the wicked, and he who condemns the righteous, both of them alike are an abomination to the Lord." (Proverbs 17:15)
Which side do you choose, "No Men in Women's Restrooms" or "I Pee with the LGBT"?
At no cost to you, we promise to let your constituents know which side you choose.
CRTXNEWS. All rights reserved www.crtxnews.com

CRTXNEWS. All rights reserved