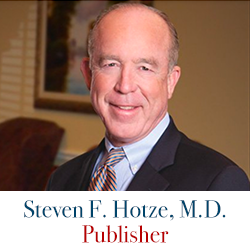 by Steven F. Hotze, M.D.
Publisher, CRTX News.
The Democrat Party is socialistic and communistic in its policies. The Communist Party USA, www.cpusa.org/, endorsed Hillary Clinton for President, as it did Barrack Hussein Obama, http://www.cpusa.org/article/hillarys-hour/.
Birds of a feather flock together!
The Democrat Party's policy positions line up with that of the Communist Party USA, http://www.hardhatters.com/2013/04/are-democrats-much-different-than-communists/.  The Democrat leaders at the federal level and in Texas continually work to destroy the political philosophy of our Founding Fathers that was based upon a Biblical world view. This Biblical world view opposes the centralization of power in the civil government. It espouses different levels of government starting with self government, then family government, church government and work and school institutional governments. The least important and last area of government is civil government. The primary role of civil government is to punish evil doers and to protect the honest, hardworking citizens
"For rulers are not a cause of fear for good behavior, but for evil. Do you want to have no fear of authority? Do what is good and you have praise from the same; for it is a minister of God to you for good. But if you do what is evil, be afraid; for it does not bear the sword for nothing; for it is a minister of God, an avenger who brings wrath on the one who practices evil." (Romans 13:3-4)
A society built upon Biblical precepts provides the greatest degree of liberty for its citizens because power is decentralized. It promotes personal accountability and responsibility. It rewards hard work and penalizes slothfulness.  This is what a Biblical world view means.
 "Poor is he who works with a negligent hand, but the hand of the diligent makes rich." – Prov. 10:4
In contrast, socialists, a soft word for communists, believe that the key to prosperity is for power in society to be centralized in the federal government. Citizens should rely on the federal government for womb to tomb security. The socialist civil government becomes the sovereign force in society, that offers security to everyone, except when it allows the killing of unborn babies.
This contradicts the Biblical world view that exalts Almighty God as the Sovereign ruler of all creation. As Christians we are to submit to His authority as revealed in the Bible.
Socialists/communists are determined to regulate and direct the economy, to raise taxes, to strengthen the powers of the federal government, at the expense of States and individual rights, and to substitute government entitlement programs for personal accountability and family responsibility.
This Marxist, socialist, communist philosophy has been rejected by Russia, has bankrupted Cuba and Venezuela, and is bankrupting Europe, yet, it continues to be embraced and advanced by the Democrat Party in its platform and by its leaders at the national and state levels.
The socialist, communist Democrats offer security for all people at the cost of personal liberty.
The person who is willing to sacrifice liberty for security will experience neither.
Look at the results of socialistic policies that have been adopted by our federal government: the breakdown of families, 67% of black children are born out of wedlock, 50% of inner city children are high school dropouts, illegal and legal drug use is rampant, abortion and homosexual conduct are promoted as Constitutional rights, Muslim and other immigrants are flooding our nation without vetting, benefiting from our schools and welfare programs, entitlement programs are growing exponentially, the federal government is nearing $20 trillion in debt, plus there are $105 trillion in unfounded mandates, amounting to $877,000 per taxpayer, http://usdebtclock.org/. The once mighty USA is headed off a financial cliff with the pedal to the floor board. 
 The problem with socialism is that the producers have to pay for the non-producers, draining the vitality of the industrious. When the producers run out of money or become discouraged that their hard earned income is being stolen by socialist politicians to buy the votes of those on welfare, and are no longer willing to risk their time and capital, then the socialist system eventually collapses. Just look at what has happened over the past decade to the once prosperous nation of Venezuela when the socialists and communists took over the government.  
Ronald Reagan told a short, simple 3 minute story entitled, "The Little Red Hen," which will help you understand why socialism always fails,

https://www.youtube.com/watch?v=1rxCwAzS0EY.
Some would argue that socialism is the only system that provides a safety net for all members in society.  Historically, it has been the Christian churches and charitable organizations that have built the hospitals and provided the social services for the needy. These services were financed through the tithe of Christians and the churches were a moral force for good in society. The Gospel message was presented to the downtrodden, giving them hope that they could make a change in their lives and conditions.
Socialist Democrat politicians invaded this area of social services as a power grab. The socialists raised taxes to finance this work, promising government handouts in exchange for votes of the beneficiaries of these government programs.
If the federal government were to give tax credits, rather than deductions, for charitable contributions, then you would see a transfer of power from the government back to the churches and charitable organizations. This should be the aim of our social policy.
Socialism destroys the personal responsibility and accountability of those who receive welfare and entitlements. Socialist politicians don't care as long as they can purchase the votes of the welfare recipients and be reelected to office.
You have seen on TV the recent outrage by the socialist, communist Democrat supporters after Trump's election, after his inauguration, at the University of California at Berkeley and at the airports when Trump banned immigrants from seven Muslim countries. These protesters were filled with hate. They were godless. They rioted, broke windows, set cars on fire, cursed, yelled obscenities, and threatened President Trump and his supporters. Madonna even publicly announced at a Washington, D.C. rally that she was thinking about how to blow up the White House. If any conservative leader had said that at a public rally, then he would have been arrested and the story would have made headlines all over the country. These vile people are following the teachings of arch communist Saul Alinsky, who lived in Chicago and was a mentor of Barack Obama and Hillary Clinton. Alinsky wrote the book, "Rules for Radicals," which he dedicated to Lucifer.  
 The fact that these rabble turn out in mass to protest at the drop of a hat demonstrates that there is a well-organized socialist, communist movement at work in the United States, funded by the likes of George Soros through his many political arms. The goal is to create social anarchy in order to force the civil government to respond in kind. These socialists and communists, and their duped followers, are planning for a revolution and an overturning of the federal government and a removal of President Trump from office. The situation is going to get much worse before it gets better unless Christians are willing to take a stand for righteousness.
 All the while the elected Democrat national and state office holders are praising these miscreants for their outrageous actions. Yes, the Democrats are Marxists, socialists and communists in their philosophy and their actions. They support the homosexual political movement, the killing of unborn babies, and the radical anti-American Muslim Brotherhood, http://www.redstate.com/streiff/2016/11/11/will-dnc-actually-select-muslim-brotherhood-supporter-chairman/.  The Democrats have an evil intent for our nation.
"He who justifies the wicked, and he who condemns the righteous, both of them are alike an abomination to the lord." (Proverbs: 17:15)
Christian pastors need to wake up, warn their church members of this evil tide flooding our nation and lead them to stand for Christ our King and His standards before the seats of civil government. Christians holding public office need to demonstrate the courage of their convictions, and we need to give them our unwavering support.
 As Edmund Burke said, "All that is necessary for evil to triumph is for good men and women to do nothing."

 "Through God we shall do valiantly, and it is He who will tread down our adversaries." (Psalm 108:13)
CRTXNEWS. All rights reserved www.crtxnews.com

CRTXNEWS. All rights reserved