By David Jennings
Big Jolly Politics
It is sad that it has come to this in Texas. Or anywhere else for that matter. Speaker Joe Straus and the majority of the Texas Republican Caucus, led by Rep. Tan Parker, are supporting an aggressive agenda led by the anti-science progressive wing of the Democratic Party to redefine the definition of human beings.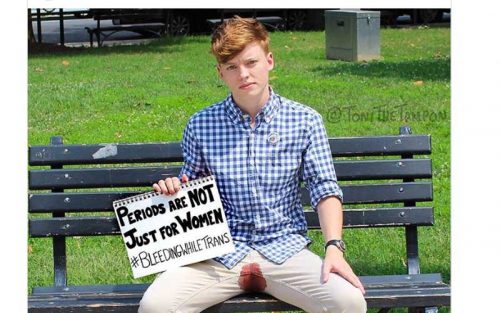 Sorry you had to see that picture but if I had to see it, so do you. The picture is from a Huffington Post article dated 7/22/2017 titled "Powerful Photo Shows That Women Aren't The Only Ones Who Get Periods".
Clemmer, who works as a menstrual health activist, told HuffPost that they decided to stage the photo after the backlash to The Adventures of Toni the Tampon: A Period Coloring Book a coloring book they created to introduce kids of all genders to the human experience of menstruation.
Obviously, that is anti-science. It is a plain fact of science that women are the only human beings that menstruate. But the aggressive, anti-science agenda from the LGBTQ-59 crowd is working, make no mistake about that. Think about that paragraph above.
A coloring book. Kids. The destruction that progressives have done to our public schools.
Then read the Texas Tribune's account of an abused young boy who testified against SB 3, a bill which is described by the left-leaning political journalists in Texas as a 'bathroom bill'.
Despite losing bathroom bill fight, a transgender girl gets her two minutes

"Can we talk about whether you're going to testify?" Rachel prodded lightly.

"I'm scared," Libby responded in a quiet voice with a shrug of her small shoulders. While she's giggly and playful around her siblings, she's extremely shy around people she doesn't know.

"It's OK to be scared," Rachel said, running her hand through Libby's chestnut curls.

…

Her head barely clearing the top of the green chair, Libby looked down at her testimony.

…

"I am seven years old, and I am transgender," Libby told the senators facing her. "I love my school and my friends, and they love me, too. I don't want to be scared to go to the restroom in anywhere public. And I never ever want to use the boys' bathroom. It would be so weird. Please keep me safe. Thank you."
That is heartbreaking. It truly is. In a reasonable, rational society, those parents would be charged with child abuse. Instead, they are celebrated by the anti-science progressives and the majority of Republicans in the Texas House. If only there were a law to protect that child from his parents. Those parents should be providing mental health care for their son, not using him as a prop in a sick game.
Fortunately, the Republicans in the Texas Senate didn't fall for the emotional testimony of an abused child and voted to send SB 3 over to the House.
Unfortunately the Republicans in the Texas House are ready to accept that abuse, as they did in the regular session. They are apparently scared that popular culture will demand that corporations refuse to do business in Texas if they don't allow the anti-science progressive agenda, complete with Toni the Tampon coloring books, to corrupt our state. I think they call it the business vote, even though the facts do not support their case.
In case you don't know, the Texas House of Representatives is dominated by Republicans by almost a 2-1 majority. And yet, the anti-science progressives are poised to win this battle. What is it again that Texas Republicans are supposed to stand for?
Science says that no, men do not menstruate.
There are only a few Texas House Republicans against this nonsense, perhaps 14 or 15, that are willing to defy the majority of Republicans and 100% of the Democrats who are anti-science and who want to redefine male and female biology. What a damn shame.
This is how they mock Vice President Mike Pence: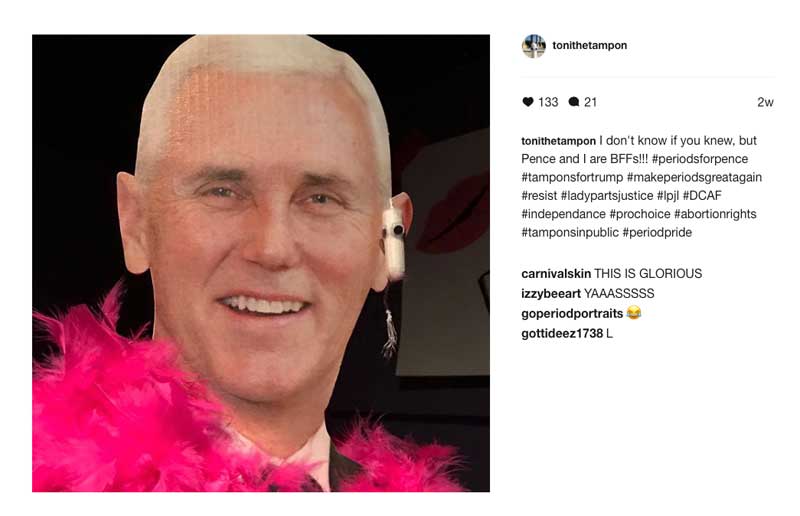 Via http://bigjollypolitics.com/psst-texas-house-republicans-support-anti-science-lies/

CRTXNEWS. All rights reserved www.crtxnews.com

CRTXNEWS. All rights reserved