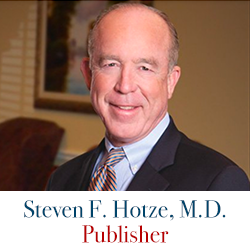 May 17, 2017
Steven F. Hotze, M.D.
Publisher, CRTX News
"The king's heart is like channels of water in the hand of the Lord; He turns it wherever He wishes." (Proverbs 21:1)
Ask God to move the heart of those in leadership in our state, Gov. Abbott, Lt. Gov. Patrick, Atty. Gen. Paxton and Speaker Straus, and in our Nation, President Trump, Sen. Majority Leader McConnell, and Speaker Ryan, to follow God's standards written in the Bible. God can put unbearable pressure on these men, causing them to do what is right. Several of these men are already moving in God's current, others are swimming against it. Let's make sure that we are swimming with God's current.
"He who pursues righteousness and loyalty finds life, righteousness and honor." (Proverbs 21:21)
Righteousness is acting in accordance with God's divine law, found in the Bible, practicing good, honorable, and virtuous behavior. If we conduct ourselves in this manner, then there is a promise of honor.
"A wicked man displays a bold face, but as for the upright, he makes his way sure." (Proverbs 21:29)
A wicked man is evil, sinful, immoral, mean and vile. He is full of arrogance and pride. He acts like a bully if you try to challenge him.
On the other hand, those who conduct themselves in a manner that is honorable, virtuous and upright, are on a solid path. They know that, through God's indwelling Spirit, they shall do valiantly and are confident that God will tread down their adversaries.
"The horse is prepared for the day of battle, but victory belongs to the Lord."  (Proverbs 21:31)
It is essential that we trust God and ask Him for His divine wisdom as we write down our goals and make detailed plans to achieve them. In this way we are acknowledging God's sovereignty over our lives. He is pleased to make our paths straight. When we are successful in reaching our goals, we must be sure to praise and honor Him for giving us the victory.
These are the verses that I pray for each one of you who is serving in the state legislature or other elected offices. I ask God to fulfill them in my life and in your lives, in the name of Jesus Christ, our Savior, Lord and King.
All that is necessary for evil to triumph is for good men to do nothing.
Let's press ahead to the high call of God in Christ and advance His cause in the realm of civil government and in every area of life.
CRTXNEWS. All rights reserved www.crtxnews.com