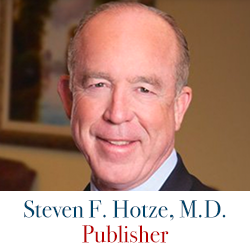 By Dr. Steve Hotze
Publisher
CRTXNews.com
Jared Woodfill and Steven F. Hotze in front of the Texas Supreme Court Building.
In 2013, Houston attorney Jared Woodfill filed a lawsuit in Harris County state court against liberal Houston Mayor Annise Parker, arguing that she had broken state law by using tax payer dollars to pay for same-sex benefits to city of Houston employees.  Woodfill's clients, Pastor Jack Pidgeon and Republican activist Larry Hicks, had the courage to serve as Woodfill's clients.  A fabulous Harris County Family Court Judge, Lisa Millard, followed the law and agreed with Woodfill's argument, ruling that Mayor Parker's conduct broke the law.  The liberal left then appealed the decision and the Republican base Houston Fourteenth Court of Appeals joined in on their agenda, overturning Judge Millard's decision.  Woodfill was not deterred and took the case to the Texas Supreme Court.  Originally, the Texas Supreme Court refused to hear the case; however, a strong pro-family, pro-Tenth Amendment dissenting opinion was issued by Justice John Devine.  Woodfill then filed a Motion for Rehearing, asking the Texas Supreme Court to reconsider refusal to hear the case.  Governor Greg Abbott, Lieutenant Governor Dan Patrick, and Attorney General Ken Paxton agreed with Woodfill's request and filed an amicus brief (fiend of the court brief) supporting Woodfill's Motion for Rehearing.  I worked with other conservative leaders to gather the support of numerous state senators and state representative to also write an amicus brief in support of the motion for rehearing, requesting the Texas Supreme Court should take the case.   TheTexas Supreme Court was listening and on September 2, 2016 agreed to hear the case.
The case was then argued in front of the entire Texas Supreme Court.  Jared was joined by two fabulous lawyers and cultural warriors, Jonathan Mitchell and Jonathan Saenz.  Today, the Court issued its opinion, sending shock waves around the country and setting the stage for Obergefell  v. Hodges, the United States Supreme Court decision that redefined traditional biblical marriage between a man and a woman to include homosexual marriage, to be over turned so that the  states can define marriage.  Specifically, the Texas Supreme Court concluded, "In Obergefell, the Supreme Court acknowledged that our historical view of
marriage has long been "based on the understanding that marriage is a union between two persons of the opposite sex." 135 S. Ct. at 2594. It concluded, however, that this 'history is the beginning of these cases,' and it rejected the idea that it "should be the end as well." Id. But Obergefell is not the end either. Already, the Supreme Court has taken one opportunity to address Obergefell's impact on an issue it did not address in Obergefell, and there will undoubtedly be others. See Pavan, ___U.S. at ___, 2017 WL 2722472, at *2.21 Pidgeon and the Mayor, like many other litigants throughout the country, must now assist the courts in fully exploring Obergefell's reach and ramifications, and are entitled to the opportunity to do so.
Today, however, we are dealing only with an interlocutory appeal from trial court's orders denying a plea to the jurisdiction and granting a temporary injunction. For the reasons explained, we hold that the Fifth Circuit's decision in De Leon does not bind the trial court on remand, and the trial court is not required to conduct its proceedings "consistent with" that case. We hold that the court of appeals' judgment does not bar Pidgeon from seeking all appropriate relief on remand or bar the Mayor from opposing that relief….And we decline to instruct the trial court how to construe Obergefell on remand. We reverse the court of appeals' judgment, vacate the trial court's temporary injunction order, and remand this case to the trial court for further proceedings consistent with our judgment and this opinion."
I want to thank Jared Woodfill, Jonathan Mitchell, and Jonathan Saenz for never giving up.  It is lawyers like these who give the profession a good name.  Please take the time to thank them for their hard work.  (jwoodfill@woodfilllaw.com and jsaenz@txvalues.org) Each of these lawyers handled the case pro-bono-for free.
If you would like to receive the daily CRTX newsletter to keep yourself informed of the latest state, national and international news from a Christian conservative perspective, then all you have to do is go to the CRTX News website and sign up for free to receive it, www.crtxnews.com.
CRTX News is making a difference in Texas politics and in the Texas Legislature. In order for us to keep you informed we need your support.
Would you please consider supporting the efforts of CRTX News to keep you informed by clicking here https://crtxnews.com/donate/? Your support of 25, 50, 100 or more will help us keep you informed. Thank you for your support.
All that is necessary for evil to triumph is for you to do nothing. "Through God we shall do valiantly, and it is He who will tread down our adversaries."(Psalm 108:13)
CRTXNEWS. All rights reserved www.crtxnews.com