by PAUL BREMMER
WND
Disgusting. Stupid. Un-American. Cruel. Petty. Shocking. Ignorant. Horrifying. Vicious. Unconscionable. Disgraceful. And most of all … discriminatory!
These are some of the terms critics are using to lambaste President Trump for his announcement Wednesday that he was banning transgender individuals from serving in the U.S. military.
In a series of tweets, the president stated:
"After consultation with my generals and military experts, please be advised that the United States government will not accept or allow transgender individuals to serve in any capacity in the U.S. military. Our military must be focused on decisive and overwhelming victory and cannot be burdened with the tremendous medical costs and disruption that transgender in the military would entail. Thank you."
Trump's statement amounted to the complete reversal of an Obama-era policy, announced in June 2016 by then-Defense Secretary Ash Carter, that transgender people would be allowed to openly serve in the armed forces. Last month, current Defense Secretary James Mattis delayed the automatic implementation of Obama's plan until Jan. 1, 2018, to allow a full evaluation.
Outrage from Democrats, the media and the left was predictable. The Democratic Congressional Campaign Committee ripped the president's move, even branding him a "draft dodger."
"President Trump's attack on Americans who want to step up and make incredible sacrifice to serve our country is disgusting, and it's made worse by the political calculation behind it. Every Republican should speak out against it," DCCC communications director Meredith Kelly said in a statement.
She added: "President Trump is a draft dodger and if he wants to talk about 2018, we've got dozens of veteran candidates who have already shown what it looks like to step up and serve our country to keep us safe, and are ready to do it again in Congress."
A horde of individual Democratic legislators chimed in as well.
"I will introduce legislation and will fight to overturn this discriminatory decision," declared Sen. Kirsten Gillibrand, D-N.Y.
"The decision by President Trump to stop allowing trans individuals to serve in our armed forces is disgusting, stupid and runs counter to our American values. I want to say that I'm shocked, but after House Republicans tried to write hate into this year's National Defense Authorization Act (NDAA), I'm not surprised," seethed Rep. Robin Kelly, D-Ill.
"If you are willing to risk your life for our country and you can do the job, you should be able to serve – no matter your gender identity, sexual orientation or race. Anything else is discriminatory and counterproductive to our national security," stated Sen. Tammy Duckworth, D-Ill.
Freshman Sen. Kamala Harris, D-Calif., wrote that Trump's ban was "discriminatory and un-American." Her colleague Sen. Cory Booker, D-N.J., tweeted that Trump was "wrong."
Rep. Jared Polis, D-Colo., tweeted, "Trump makes our military weaker by arbitrarily kicking out high-performing soldiers based solely on gender identity."
His House colleague, Rep. Tim Walz, D-Minn., accused Trump of "using American lives to distract from his political problems." He called the president "cruel, petty, small, wrong, & sad."
The Democrats on the House Armed Services Committee vowed to oppose Trump's transgender military ban, tweeting, "We will fight this decision, just like we fought 'Don't Ask, Don't Tell,' and ultimately justice will prevail."
Rep. Adam Smith, D-Wash., the top Democrat on the committee, added, "This announcement is an unwarranted and disgraceful attack on men and women who have been bravely serving their country."
Criticism came from outside of government as well. The advocacy group OutServe-SLDN, which provides legal services to LGBT members of the military, said it is prepared to sue the Trump administration if Trump follows through with his announced ban. Matt Thorn, the executive director of OutServe-SLDN, said he does not believe Trump has the authority to institute the ban and that it would have to come from Mattis.
Aaron Belkin, director of the Palm Center, accused Trump of creating a worse version of "Don't Ask, Don't Tell."
"As we know from the sad history of that discredited policy, discrimination harms military readiness," Belkin said. "This is a shocking and ignorant attack on our military and on transgender troops who have been serving honorably and effectively for the past year."
Meanwhile, the American Military Partner Association, an LGBT group, derided Trump for his "attack" on transgender troops.
"This is a horrifying, vicious attack on thousands of actively serving troops in the military who happen to be transgender," said AMPA President Ashley Broadway-Mack. "Transgender service members are risking their lives around the world, and President Trump literally just put a target on their backs, threatening to ruin their careers and kick them out of the military. This is unconscionable, and we are beyond outraged."
The country's most notorious transgender ex-soldier weighed in as well. Chelsea Manning, who was sentenced to prison after leaking thousands of top-secret government documents to WikiLeaks, tweeted that Trump's move "sounds like cowardice."
Manning wrote that withholding health-care costs from transgender troops while supporting the $400 billion F-35 fighter jet program is "further reason we should dismantle the bloated and dangerous military/intel/police state."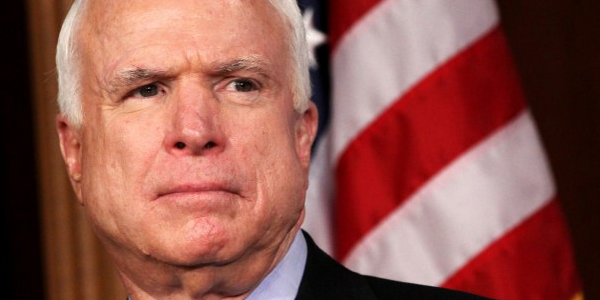 A handful of Republicans also joined the left's bandwagon. Sen. John McCain, R-Ariz., complained that Trump's tweet was "unclear" and said there should be no change in policy until Congress reviews the results of the ongoing Defense Department study of what would be required to begin transgender recruiting.

McCain's colleague, Sen. Orrin Hatch, R-Utah, said he stands with transgender Utah residents, stating: "I don't think we should be discriminating against anyone. Transgender people are people, and deserve the best we can do for them. I look forward to getting much more information and clarity from our military leaders about the policy the president tweeted today."

And Sen. Richard Shelby, R-Ala., noted Trump's announcement reverses the U.S. military's "big tent" policy.

"I think you ought to treat everybody fairly and you ought to give everybody a chance to serve," he said in a CNN interview.

The Log Cabin Republicans, an LGBT organization, predictably ripped the ban.

"This smacks of politics, pure and simple," Gregory Angelo, the group's president, said in a statement. "The United States military already includes transgender individuals who protect our freedom day in and day out. Excommunicating transgender soldiers only weakens our readiness; it doesn't strengthen it."

Angelo added: "The president's statement this morning does a disservice to transgender military personnel and reintroduces the same hurtful stereotypes conjured when openly gay men and women were barred from service during the military's 'Don't Ask, Don't Tell' era."

Of course, reaction to the ban was not all negative, as the other half of America breathed a hearty sigh of relief. Summarizing their sentiment and commenting on the left's meltdown over Trump's announcement was bestselling author and WND managing editor David Kupelian.

"The fact that Democrats and most in the establishment press are now screaming bloody murder over President Trump's announcement reveals the pathological thinking of today's progressive 'mainstream,'" said Kupelian, author of several books dealing with the subject, including most recently, "The Snapping of the American Mind." "Remember, up until just recently, being transgender was universally recognized around the world as a serious mental disorder. Then suddenly, under relentless LGBT pressure, a panel of people at the top of the American Psychiatric Association decides to partially de-pathologize 'gender identity disorder' and suddenly it's perfectly normal – and now everybody who doesn't play along is a hater and a klansman."

Maj. Gen. Patrick Henry Brady, a Medal of Honor recipient who is now retired from the U.S. Army, said he was "very pleased" by Trump's decision.

"Transgenders in the military did nothing to enhance readiness; in fact, they were a readiness deterrent, and we should not make policies with the military unless it in some way enhances our readiness," Brady told WND. "These folks have incredible medical, psychological issues, and the military is not an organization for social engineering. It's an organization that has to be ready to fight at any one minute, and these people just cannot be counted on to enhance military readiness. It's an issue of military readiness, and what Trump did was enhance military readiness."

Dr. James Dobson, the celebrated psychologist, Christian leader, author and radio host, released a statement commending Trump for reversing the damage Obama had done to the military.

"For eight years, the Department of Defense under President Obama went about the systematic and intentional transformation of the U.S. military, unnecessarily disrupting the world's most elite fighting force from their most pressing and urgent requirement – keeping our country and its allies safe," Dobson stated.

"It is heartening to have a commander-in-chief who puts the expert opinions of his generals and military officials ahead of the destructive forces of political correctness and identity politics. I support the president's decision and commend this administration for having the courage to protect our military from what would only amount to an enormous and costly distraction."

Tony Perkins, president of the Family Research Council, released a statement similarly lauding Trump for rolling back Obama-era social priorities.

"I applaud President Trump for keeping his promise to return to military priorities – and not continue the social experimentation of the Obama era that has crippled our nation's military," Perkins stated. "The military can now focus its efforts on preparing to fight and win wars rather than being used to advance the Obama social agenda.

"President Trump recognizes what the nation's military leadership and the American people realize, this Obama policy makes no sense.

"The last thing we should be doing is diverting billions of dollars from mission-critical training to something as controversial as gender reassignment surgery. However, the cost to readiness, recruitment, retention, morale and cohesion would have been even greater under the Obama policy. As our nation faces serious national security threats, our troops shouldn't be forced to endure hours of transgender 'sensitivity' classes and politically-correct distractions like this one."

Offering a word of advice to the left, Kupelian added: "Reality is our friend, we shouldn't ignore it. And reality in this case is that gender is hardwired into humans at birth, embedded permanently in every one of our trillions of cells. A man delusionally feeling that he's actually a woman – or vice versa – is in a similar situation to a dangerously skinny women suffering from anorexia who, looking in the mirror, is absolutely certain that she is fat. But she isn't fat, despite her overwhelming feelings to the contrary.

"Trump is right in reversing this imposition of a severe mental illness on the military. Remember, these folks sadly experience a staggering 41 percent attempted suicide rate, 10 times that of the general population – and that rate persists just the same after 'transitioning.' This is a difficult enough problem for society to come to grips with, but if we force it on our military, already saddled with an extremely difficult, stressful and dangerous job, not only are we being reckless, but it also sounds suspiciously like a death wish on our military. Obama, as a far leftist, strongly believed America's military influence on the world has been primarily negative, and thus did everything he could to reduce the size and power of our military. Fortunately for America, Trump is now reversing this."

Get David Kupelian's culture war blockbusters, "The Marketing of Evil," "How Evil Works" and his latest, "The Snapping of the American Mind" – signed and personalized – at the WND Superstore. Also available in e-book and audiobook versions.

Via http://www.wnd.com/2017/07/enraged-dems-melt-down-over-trumps-transgender-military-ban/

CRTXNEWS. All rights reserved www.crtxnews.com

CRTXNEWS. All rights reserved