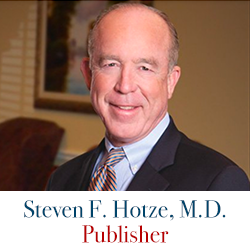 May 18, 2017
Steven F. Hotze, M.D.
Publisher, CRTX News
www.crtxnews.com
We are living in an age where our country is in moral decline. Fewer and fewer people can be found who are moral, principled, and God-fearing.  Even 4 years ago we would not have been debating this issue about whether perverted men or boys, who fantasize that they are women, should be allowed to use women and girls' showers, bathrooms and locker rooms.
It is simply incredible that we have a majority of Republicans, 95 Republicans to 55 Dems, in the Texas House, yet only a minority are willing to stand up for something as simple as women's safety and privacy.
We have been repeatedly asking the Texas Republican legislators to have a change of heart and support SB 6.  We have asked you to contact Gov. Abbott and encourage him to support SB 6.  Your calls have been working. Gov. Abbott announced earlier this week that he wants to make sure a bill passes this session that would protect women and girls from men and boys using their bathrooms, showers and locker rooms.
Gov. Abbott says this can happen the last two weeks of the Session.  However, RINO Speaker Joe Straus is blocking it in the House.  84% of Republican primary voters support SB 6 and still Straus will not allow SB 6 to be voted upon by the Texas House. He does not consider women's safety and privacy a priority.
While Straus controls the House, only Gov. Abbott can call a special session and determine the few priorities that will be addressed.
This past Monday, May 15, Straus wrote a letter to Lt. Gov. Patrick, trying to persuade him that a special session would not be necessary.  Straus knows that if he can prevent a special session from being called, then SB 6 dies in the House. This is a slap in the face to Lt. Gov. Patrick because his top priority this session has been to pass a bill that would prevent men from using women's public facilities.  In a press conference that was held yesterday, Patrick said that he was willing to meet with Straus to discuss a special session.
The eyes of the nation are on Texas.  If we do not stand firm and pass laws that uphold what is decent and right, then other states will fall sway.
Please continue to contact Gov. Abbott and ask him to call a special session at (512) 463-2000.
This is our time to act, to do our part and stem the tide.  If we don't protect our wives, mothers, daughters and granddaughters, then who will?
Be sure to pray as we continue to fight this battle. "Righteousness exalts a nation, but sin is a disgrace to any people." (Proverbs 14:34)
All that is necessary for evil to triumph is for good men and women to do nothing.
"Through God we shall do valiantly, and it is He who will tread down our adversaries." (Psalm 108:13)
Let's press this battle to its successful conclusion!
For those who want to repent of their sins, receive God's forgiveness through Jesus Christ and have a new Christ centered life, then take time to read the Four Spiritual Laws and trust Jesus Christ as your Savior and Lord.
The Four Spiritual Laws: http://www.4laws.com/laws/englishkgp/default.htm
CRTXNEWS. All rights reserved www.crtxnews.com